Sweet Thea Cakes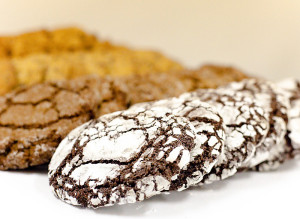 A European trained pastry chef & chocolatier, Thea (pronounced Tay-ah) has been creating dream cakes and delicious hand-made chocolates for over 15 years. Thea previously was Pastry Chef at the world-renowned Sooke Harbor House, regarded as one of the top 10 restaurants in the world, and highly-acclaimed for its exclusive use of locally harvested raw foods; Cioppino's, with current Chef of the Year Pino Posterero; Umberto's, 'C', the Vancouver Club, and several other world-class restaurants.
They are thrilled to be part of the Farmers Market Community, for a number of reasons:
1. They Themselves are foodies! Sweet Thea loves shopping at the markets and having farmers present them with their finest, freshest fruits and vegetables.
2. Shared values. Food is politics. They believe in sustainability and in supporting independent local businesses.
3. They're an artisan bakery – their pies, tarts, and cookies are all made by hand, using quality simple ingredients.  They source local products whenever they can.
"Everything we produce is the best product possible and made only with raw ingredients. There are no shortcuts in our bakery and everything is done right. Every detail is important; the look, the smell, the flavour, the crumb, the mouth feel, is all considered when preparing an item. The eating experience is essential and we like to keep our eaters happy."

A day at the bakery!
Social Media:
Website – http://www.sweetthea.com/
Facebook – http://www.facebook.com/pages/Sweet-Thea-at-The-Market/128939830530567?sk=wall