Furry Munchies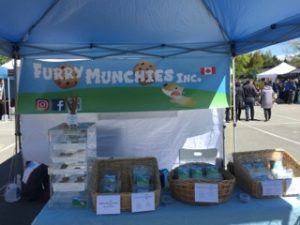 Terry and Vicky- Furry Munchies
Article written by: Kaylee Banks
Walking around the Steveston Farmers' Market on a sunny Sunday, my friend and I came upon a cute treat stall. Cookies and other treats were displayed in cases, and I was quite intrigued. Little did we know, the stall was selling treats and snacks for dogs! I had the chance to speak with Terry, one of the co-founders of "Furry Munchies Making Inc.", and she shared with me the inspiration and fundamentals of her work.
"Furry Munchies" has products that appeal to all types of dogs; providing pet owners with treats that can be eaten by dogs with wheat allergies to dogs who love blueberries. All of their cookies are handmade with fresh and healthy ingredients. Terry and Vicky are both pet lovers, and after realizing that they did not truly understand what types of additives and preservatives were being added into their dogs' food, they decided to take matters into their own hands and create healthy options for their animals. These women are extremely hardworking and put a lot of love into their homemade products. The peanut butter used in certain products is handmade by the "Furry Munchies", where raw peanuts are used to create the most natural peanut butter possible. Due to the effort and labour put into the treats at "Furry Munchies", pet owners can feel safe and positive knowing that there are no hidden ingredients or chemicals in the foods they are feeding to their dogs.
A funny anecdote stayed with me after I spoke with Terry; she said that a lady had once come by and had started eating one of the dog treats from their stall! The lady hadn't understood that the food was for pets, because all of the products are so visually appealing to the human eye. Once she was told that the cookie was made for dogs, the woman happily shared with her dog. I found this very interesting, because humans are attracted to the food that is made for pets. Many pet owners feel more comfortable feeding their dogs foods that humans would enjoy, because pets are part of the family.
If you have a dog that is craving some delicious treats, make sure to check out "Furry Munchies" at local farmers' markets! Even picky dogs enjoy these cute treats, and you will want to keep coming back for more. Made with natural and healthy ingredients, the products sold from "Furry Munchies" will make you and your pet feel great!