New World Felting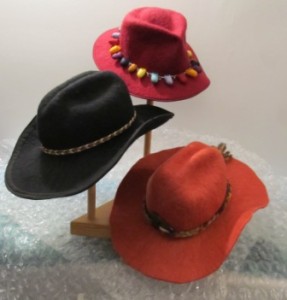 Jodi Pirog is the owner of New World Felting/Designs by Jodi. She has been a fiber artist for many years and has found the felting median to be the most versatile and satisfying of the fiber arts. Jodi's felting adventures have taken her and her husband to places in search of raw materials all over North America. If you have seen her "stuff" you will know that some pieces have a little bit or bob from her adventures with Dave (husband). Any time they go on vacation she is able to find the wool shop or the bead shop or the fabric shop that has just what she needs to make a unique piece of felt for handbag making or some luscious wool for scarves and shawls.
Felting wool is an ancient process that requires the wool roving to be subjected to heat, soap and agitation. The heat opens up the scales on the individual wool fibers allowing them to "matt" together, the soap allows the fibers to "slip" pass each other and intermingle and the agitation is what causes the fibers to become friendly with each other. Once the process is complete, very cold water is used to rinse the felt and lock down the fibers. That is the reason you always wash wool by hand in cold water, cause if  hot water was used, you would start the felting process all over again.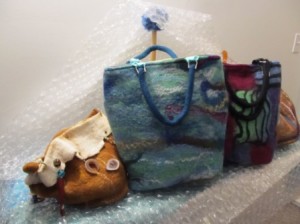 Jodi is a constant experimenter and as a result she has self taught herself the art of felting. By combining silks and cottons with various wools she has achieved light weight but warm products for her customers. Jodi has also felted in 3D which allows her to create hats, handbags, and other assorted accessories. By adding embellishments like beading, embroidery and hand dying her wools, silks and cottons, the combinations of colors and various types of products are endless.
Jodi loves to meet people at the markets to show them her product line and put a smile on their faces when they see the color , quality and versatility of her lovely products.
Social Media:
Website: www.newworldfelting.weebly.com