Martha's Kettle Corn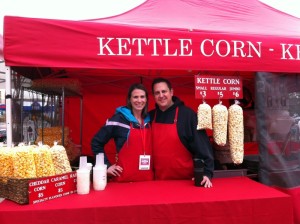 When the kettle starts heating up Martha's sweet and salty popcorn and the famous smell starts wafting through the Village of Steveston, everyone knows the market is setting up.  At Martha's Kettle Corn every product is made fresh, on-site, on the day of the market.  Bring the kids to come by and watch the huge kettle pop the largest batch of popcorn you've ever seen!
Kettle Corn is popcorn that is cooked in a giant kettle with sugar.  A hint of salt is added and it is the perfect combination of salty-sweet with a mouth-watering crunchy sugar crust.  They also serve caramel corn where caramel sugar is used for a more darker, thicker, richer taste.  For the more savory customers, Martha's have cheddar corn which blends two all-time favorites, cheese and popcorn, what could be better?  For those that can't make that tough decision between sweet or savory they have Chicago-style which is a mixture of caramel and cheddar corn. They've had so many requests for this popcorn that they had to add it to their line up!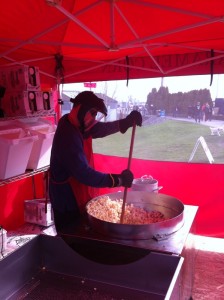 The kids' favorite of course is the Rainbow Corn. With four favorite flavors of green apple, pink vanilla, orange, and blue raspberry all mixed together, it is a child's paradise. This combination is a little trickier to make but if you come by the market early in the morning you might get lucky and watch Martha's team wrangle the biggest and happiest pile of popcorn you have ever seen!
Owners, Martha and Darren, love making popcorn and interacting with the wonderful and loyal people of Steveston. Both of them are full-time high-school teachers and can't think of a better way to spend their summers. They transfer our passion from the classroom to a product they stand behind. "Believe us, popping a batch of rainbow corn is a lot more fun than marking term papers!"
Kettle corn is gluten-free, non-dairy, and peanut free.
Cheddar corn does contain dairy.