Lilise – Apple Sauce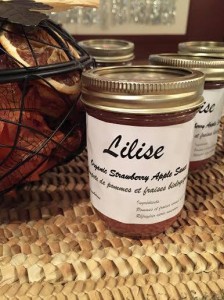 Apple sauce? Really??? Why not!
Lilise's mission is to offer delicious, fruity, and natural preserves with no added sweeteners.
They firmly believe in simplicity and originality, so they decided to give a new meaning to applesauce.
Lilise's gourmet creations are crafted in small batches to achieve a unique texture and flavour.
At Lilise, they know that healthy and tasty food shouldn't be boring.
Lilise applesauce can be enjoyed in so many ways:
– with a spoon as a dessert or snack,
– with some oatmeal, yoghurt, or ice cream as a topping,
– on a slice of toasted bread or bun as a spread, or
– with some pork, chicken, or duck as a condiment.
Lilise is also a wonderful ingredient for baking.
Their apple sauce varieties include the original apple sauce, apple strawberries sauce, and
the famous sweet spicy apple sauce which will surprise you!
Enjoy Lilise's creations in so many ways. Unleash your imagination!
Liliseapplesauce@gmail.com – Phone: 604-669-0785
Social Media:
Facebook – Lilise