Golden Crust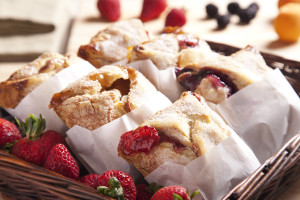 Golden Crust Pie Shop was founded in 2002 by Patricia Yendall who started making pies to sell at local farmers markets in a small commercial kitchen set up in her Squamish home. With Patricia's 20 years of experience as a pastry chef and natural talent for making irresistible food Golden Crust soon gained a loyal following of food lovers from the Sea to Sky corridor and beyond.
In 2006 the continued success of the home based business led to the expansion of the bakery to a larger location on Queens Way in Squamish where Patricia now works with her husband Wade who left his career in hotel and restaurant management to join her full time. Between them they have a combined hospitality experience of over 40 years.
Their most popular creation is the now famous "GC Pocket Pie" It is a popular hand held pastry sold at Farmers Markets from Whistler to Ladner. The Pockets originated as a triangular turnover, but Patricia found that the corners of the turnovers would break too easily and the product was hard to handle at markets so she changed the fold of the pastry into the current pocket shape and discovered she had the perfect balance of fruit to pastry as well. The pockets pies are made with traditional pie pastry and filled with local fruits and berries. They are flaky, delicious and portable.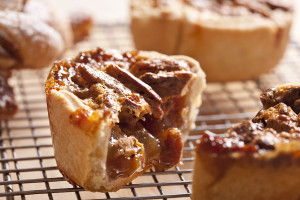 Patricia & Wade pride themselves on making food using classic techniques from scratch with natural ingredients. Their recipes are simple and well balanced with an emphasis on flavor. The Golden Crust tag line is "Sea to Sky Delicious"….it is also their guarantee.
Social Media:
Website: www.goldencrust.ca
Facebook: http://www.facebook.com/pages/Golden-Crust/213662468656509
Twitter: https://twitter.com/#!/GoldenCrustSpec