D-Origianal Sausage Haus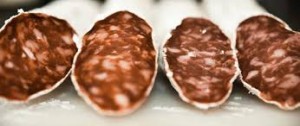 D Original Sausage Haus offers artisan sausages crafted by a fifth-generation master sausage maker. We're proud to bring a taste of Europe to the Steveston community and to all online sausage connoisseurs. From hearty bratwurst to feisty chorizo, D Original Sausage Haus has something for every palate.
The man behind our meat
All their goods are proudly crafted by sausage-master Drews Driessen, a man intent on bringing the best of old world back. A fifth-generation sausage maker from Germany, Drews settled in Canada 21 years ago. After stints in commercial plants, the call of the casings grew too strong. Drews had to go back to sausage making and put his 35 years of experience to work. He began with a secretive workshop off Main Street, crafting smoked and air-cured beauties using traditional methods that don't require the vast amounts of salt and sulphurs that modern short- cuts demand. Drews' sausages are made from hand-selected meat, ethically and (where possible) locally raised. Their quality is evident in the unbelievable flavour of our sausages – wholesome, meaty, natural.
How D Original Sausage Haus came to be
Jens Hertha was introduced to these wondrous meats through Drews' son and fellow Canucks fan Thorsten Stock. Originally from Germany, Jens was surprised to find the authentic taste of home here in Canada. He immediately asked where he could buy them and was told that Drews' sausages were only produced for specialty commercial locations. Undaunted, Jens went straight to the source, visiting Drews' manufacturing facility to buy direct. As a true sausage connoisseur, Jens began to feel it was his duty to bring these culinary marvels to the masses. In August 2011, after a vacation back in the fatherland, Jens felt it was time to bring a taste of Germany to Vancouver. He and Thorsten got together and started to work on making D Original Sausage Haus a reality.
Why start with Steveston?
Jens' long-time dream was to bring high quality, hand crafted German sausages to a new audience in Canada. A long-time Steveston resident, it was only natural to kick off the vision by bringing his fine wares to the discerning Steveston community that was sure to appreciate them. The shop already has several regulars who are delighted that they no longer have to make the trip over to Granville Island for artisan sausages. D Original Sausage Haus is proud to contribute to the Steveston community with locally sourced products. And what begins in Steveston doesn't stay in Steveston – D Original Sausage Haus hopes to expand to other locations soon.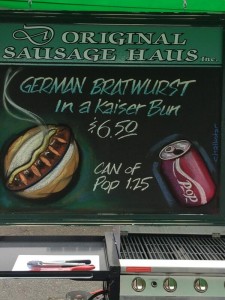 They will be selling German bratwurst on a Kaiser bun at the market throughout the summer.
Social Media:
Website: http://www.doriginalsausagehaus.ca/
Facebook: D-Origianal Sausage Haus
Twitter: @DSausageHaus