Creative Leathercrafts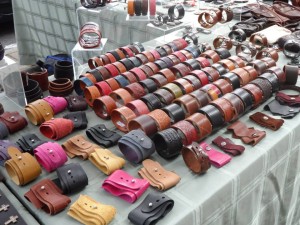 Allen Pearson started leather crafting 4 years ago. His inability to find a good quality, real leather belt, is what lead him to make one for himself for the first time. After showing friends and family, he was asked by many of them to make custom designed belts.  From there Allen started to come up with other ideas for creative leather products such as bookmarks, wrist cuffs, wrist wraps, Christmas ornaments, bags and pouches along with many more items, which everyone loved as well.
From that positive response, he decided to do some markets and craft fairs.  The response from the people was overwhelmingly positive so Allen continued to expand his leather product line.  People love that Allen will custom design different products to fit their personal tastes and that he will custom size his belts right at the table for his customers.
Allen loves leather crafting for its extremely soothing, relaxing and therapeutic values.  He is also able to explore his creative personality and he receives great enjoyment in that others love what he creates.  He also loves the fun and exciting family oriented atmosphere of the Steveston Farmer's and Artisan Market and is looking forward to a great summer season!
Social Media: