Auntie's Knitting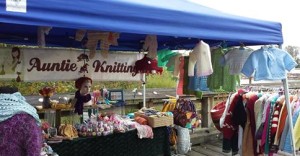 Auntie's Knitting is a long time vendor of SFAM, having been with us since 2008.
When asked how the name Auntie's Knitting came about, this is the beautiful story she told me."When we were thinking about a name for my hobby business, after 1 year thinking and not getting anywhere, my little nephew (my brother's boy) one day said: "Why are you sad Auntie?" I have replied by saying: "You know for my knitting business we are thinking a name but cannot come up with one". He said: "What about Auntie's Knitting?" He was 4 years old then, now this year he is turning 10 in August, and I want everyone to know he is the founder of Auntie's Knitting name. Bilal, thank you for being part of my life and creating a beautiful name for my business."
An reminder of how farmer's market allows home gardeners, cooks and artisans a place to share their passion for what they do. And how family support is so important in so many ways, including coming up with a name to your brand.
Social Media: