Aji Gourmet Products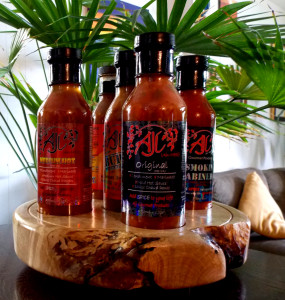 Ají Gourmet Products is a family owned and operated business. Ají is part of their Colombian heritage and they took on the challenge to turn Ají into a business. Their goal is to turn Ají into the next Canadian Staple because Ají is AMAZING! Made with only FRESH natural ingredients, no preservatives, Gluten, Soy, Nut, Sugar Free, it goes well with all meals and it mixes to make amazing sauces and marinades. Ají doesn't take over the flavors. It adds pop to the flavor so you taste your food at the next level!

All Aji Gourmet's sauces are the same basic recipe so everyone can pick their level of HEAT, from Mild to their very Hot Smokin' Habanero!
Social Media:
Website: http://www.ajigourmetproducts.com/
Facebook: Aji Gourmet Products
Twitter: @AjiProducts